All SIM Balance Transfer Codes: Balance exchange is a fantastic feature that many telecom companies have implemented. If you wish to transfer your credit to a new phone number, family, or friends, you may do so.
Send your mobile recharge easily to another account balance to a different wallet or SIM card. You can use this feature if there is an issue or insufficient talk time balance to place a call. You can send funds from your wallet to the account of a friend. Each network service supplier has its own set of short USSD codes for transferring account credit.
All SIM Balance Transfer Codes & Number (Jio, Airtel, BSNL):
Call the service operator's code shown below to transmit your prepaid phone account credit. In addition, you may use your service supplier's credit loan facility to obtain the amount necessary. Here are All SIM Balance Transfer Codes & numbers (Jio, Airtel, BSNL) are given:
Jio SIM Balance Transfer Code:
Download the My Jio application to move your balance to a different Jio number.

Access My Jio Application Homepage and click on the navigation bar in the upper left corner of the screen.

Choose the My Vouchers tab.

You may add any Jio package to your cell phone and pay with Paytm, a prepaid card, or net finance.

After obtaining a coupon, you may effortlessly transfer Jio perks to another Jio account.

Tap the upload icon and complete the on-screen directions.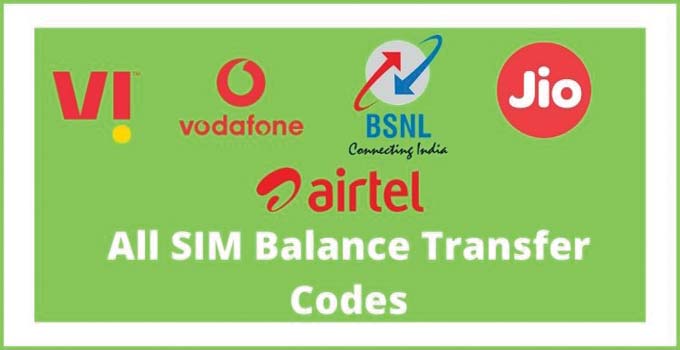 Check: AT&T USSD Codes
BSNL SIM Balance Transfer Code:
For sending your BSNL account credit to any other BSNL account, you must dial *56799#.
Airtel SIM Balance Transfer Code:
To send your account cash, dial *141#. Whenever you run the code, it will prompt you to choose one of the alternatives mentioned.
We've included the all sim top-up USSD codes and phone numbers you'll need to exchange your current account amount.