All SIM Data Balance: Whether Airtel, VI, Jio, or BSNL, every telephone service provider has its unique USSD code. And while there is an obvious difference among many of the codes issued by every telecom provider, some codes may be the same for every network. Moreover, since many USSD codes are unique, customers frequently become confused and utilize several telecom operator applications. As of now, this has been a widespread issue across dual SIM smartphone owners.
What exactly are USSD Codes?
Generally, USSD codes are "Instant Codes"; they are predetermined digits that consumers can transmit, and the telecom network technology responds by sending a text message with the desired information. Every telecom provider should ideally have a collection of USSD codes.
Undoubtedly, applications are not a fantastic solution; nevertheless, having many apps to offer data regarding your recharging package or credit data is highly inconvenient. As a result, USSD codes for all telecom carriers, including Airtel, BSNL, Jio, and Vi have come in handy.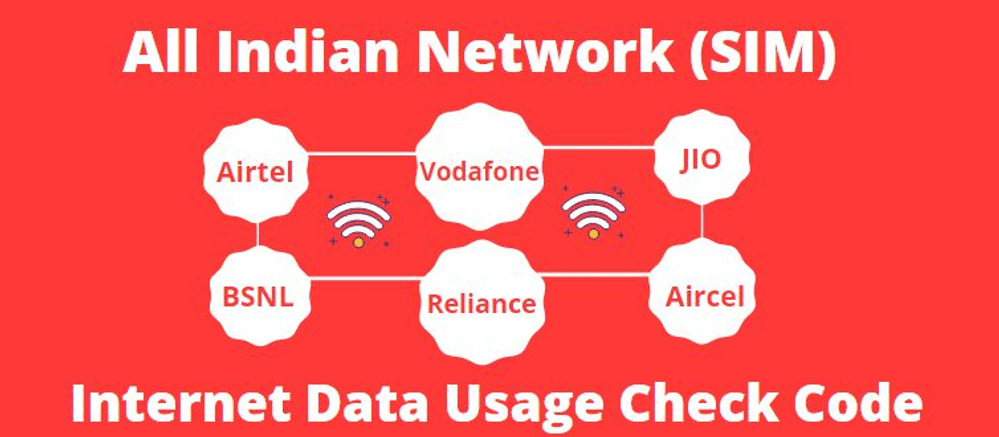 Check: All Sim Talktime Codes
All SIM Data Balance Check Codes & Number (Jio, Airtel, BSNL & Vi)
Check the following list to get the All SIM Data Balance Check Codes & numbers (Jio, Airtel, BSNL & Vi) for all Indian networks. The data balance checking number supplied here is the most recent and up-to-date, and it is guaranteed to function.
BSNL SIM customers may check their total balance and remaining data using the BSNL data amount check number *124#.

Consumers of Vodafone Idea SIM cards may view their GPRS amount using the Vi Balance Checking Pin *199*2*2#.

Every Airtel SIM card customer must hit this Airtel data status checking number *121*2# to view their total balance and eligibility on their phone's screen in seconds.

There is currently no Jio data amount checking code accessible. To verify your Jio SIM data status, dial 1299 or send the text word "BAL" to 199. You may also utilize the My Jio application to view all of your account information in seconds.