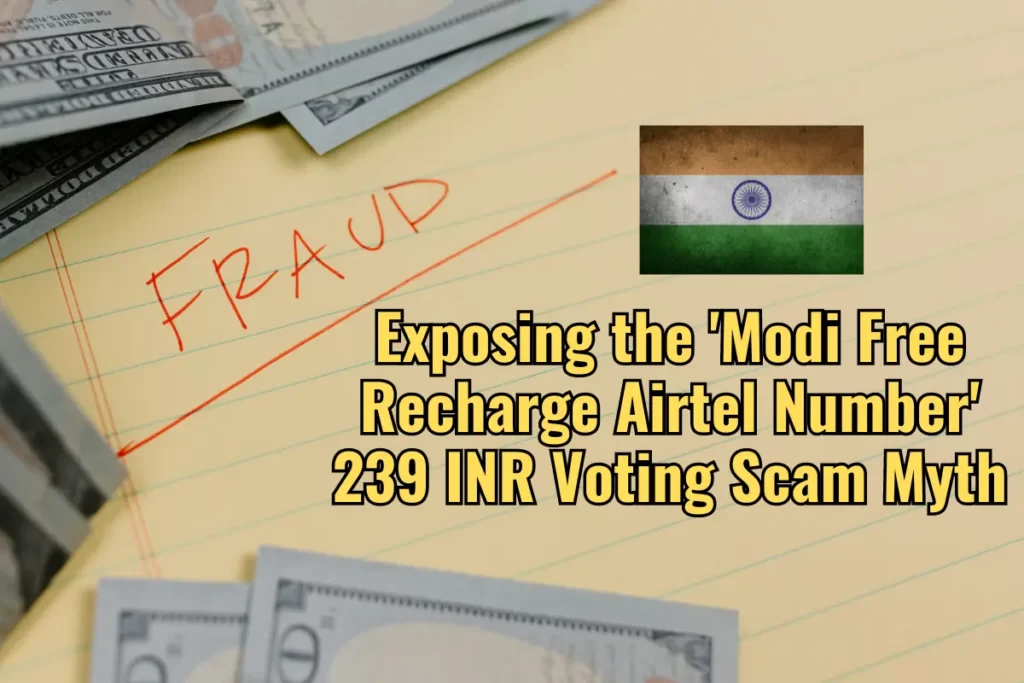 Amidst the digital kaleidoscope of information, emerged an ostensibly exciting piece of news — one concerning the modi free recharge airtel number initiative, promising citizens a complimentary recharge of INR 239 for a duration of 28 days. The claim spread like wildfire, reaching multitudes and igniting spirited discussions across numerous digital platforms.
Tracing the Origin of the Viral News
The roots of this news can be traced to a widely circulated message, which heralded the benevolence of the Indian Prime Minister, Narendra Modi. According to the communication, this generous offering was slated as a pre-2024 election strategy to amplify support for the BJP government, guiding citizens to a specific link where they could register and avail of the scheme.
"Narendra Modi's Telecom Offer" Details: A Closer Inspection
On digging deeper into "Narendra Modi's telecom offer" details, notable discrepancies and red flags surfaced. Prime amongst these was the absence of any official communication or validation from competent government authorities or from Airtel itself, a leading telecom service provider in India.
Debunking the Modi Free Recharge Hoax
Efforts towards "Debunking the Modi free recharge hoax" gained momentum as the Press Information Bureau (PIB) Fact Check intervened, labeling the claim as deceptive. Explicitly stating that the Indian Government was not facilitating any such scheme, it became evident that this was a sinister ploy by malicious entities intending to defraud.
How to Verify News about Modi's Free Recharge?
The surge in queries like "How to verify news about Modi's free recharge?" underscores a collective effort to discern truth from falsehood. The PIB facilitates a mechanism where citizens can validate the legitimacy of such messages by forwarding them to factcheck.pib.gov.in or through WhatsApp at +918799711259, or via email at [email protected].
Airtel 239 Recharge Validity and Other Legitimate Plans
Transitioning towards genuine avenues, "Airtel 239 recharge validity" and other such plans can be authentically verified and availed through the official Airtel website or application, safeguarding users from potential scams.
Challenges of Combating Fake News in the Digital Era
"Telecom scams in India" and worldwide represent just a fragment of the misinformation iceberg. The "modi free recharge airtel number" scam brings to light the imperative need for vigilance and skepticism when navigating the sea of online information.
The Role of Telecom Regulatory Authority in India
"Telecom regulatory authority in India" plays a pivotal role in safeguarding consumer interests and maintaining the integrity of telecommunication services. However, the involvement and awareness of consumers, coupled with adherence to safe digital practices, augment these efforts, creating a resilient fortress against fraudulent endeavors.
Implications and Learnings from the Incident
The incidents of deception and scams, such as "Airtel prepaid mobile recharge scam", present valuable lessons. Awareness, scrutiny, and verification are paramount in shielding oneself from the impact of such schemes.
Curtailing Misinformation: A Collective Endeavor
Effective mitigation of "fake news and misinformation in India" necessitates a collaborative approach. While regulatory authorities and telecom providers play a crucial role, the conscious and informed digital participation of citizens amplifies these efforts.
Final Thoughts:
Navigating through the echo chambers of misinformation, particularly those like the "modi free recharge airtel number" scam, demands collective vigilance and informed digital citizenship. As we steer towards an increasingly digital future, establishing and nurturing a culture rooted in authentic information and critical analysis becomes not just essential, but pivotal.
Also Read: Airtel Free 1GB Data Miss Call Number Latest Working