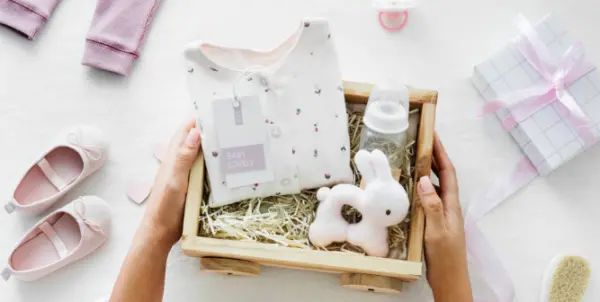 Becoming a parent is one of life's most joyous and transformative experiences, and it's only fitting to celebrate the arrival of a new baby in style. In recent years, gifting has evolved, and baby gift hampers have taken centre stage. These carefully curated hampers filled with adorable and practical items have become the go-to choice for friends and family looking to welcome a newborn. This article will explore the latest trends in baby gift hamper gifting, offering inspiration for those who want to make the arrival of a new baby truly special.
1. Personalisation Takes the Lead
One of the most prominent trends in baby shower gifts is personalisation. Gone are the days of generic gifts – today, people want their presents to be meaningful and unique. Personalised items like monogrammed baby blankets, embroidered onesies, and custom-made name plaques are becoming increasingly popular. These thoughtful touches make the baby feel special and create lasting memories for the new parents.
2. Eco-Friendly and Sustainable Choices
Sustainability is a growing concern today, and this trend has extended to baby shower gifts. Many consumers are seeking eco-friendly and sustainable gift options. Organic cotton clothing, reusable diapers, and wooden toys crafted from sustainable materials are all excellent choices. By selecting eco-conscious items, you're welcoming the baby with love and contributing to a greener future for the next generation.
3. Gender-Neutral Hampers
Gender-neutral baby gift hampers have gained significant popularity in an era where inclusivity and diversity are at the forefront of societal discussions. These hampers avoid traditional pink and blue colour schemes, favouring neutral tones and unisex designs. This trend ensures that your gift is suitable for any baby, regardless of gender, and it resonates with the values of modern parenthood.
4. Themed Gift Hampers
Themed gift hampers are an exciting and creative way to welcome a new baby. You can base your hamper on a particular theme, such as animals, outer space, or fairy tales. For example, a safari-themed gift hamper might include animal-print clothing, plush toys, and picture books featuring wildlife. Themed hampers make the gift more playful and memorable for both the baby and the parents.
5. Wellness-Centric Gifts for Parents
While focusing on the baby is essential, don't forget the parents embarking on their new journey. Wellness-centric baby shower gift hampers are gaining traction. These hampers may include scented candles, spa vouchers, and self-care products. Such gifts can help new parents relax and rejuvenate during those precious moments when the baby is napping.
6. Technology-Integrated Hampers
As technology plays an ever-increasing role in your lives, it's no surprise that technology-integrated baby shower gifts are rising. In the hamper, you can include gadgets like baby monitors with video streaming, smart thermometers, or baby trackers. These tech-savvy gifts give parents peace of mind and make their lives more convenient.
7. DIY Gift Hampers
DIY (Do-It-Yourself) baby shower gifts offer the perfect solution for those who love the personal touch. You can curate a hamper from scratch, hand-picking each item to suit the baby's and parents' preferences. It's a labour of love that shows you've put thought and effort into creating a special gift.
In conclusion, welcoming a new baby in style has never been more exciting or meaningful. The trends in baby gift hampers have evolved to reflect the values and priorities of the modern world. Whether you opt for personalisation, sustainability, or tech-savvy gadgets, there's a trend that suits your preferences and your parents' values. These hampers convey your love and excitement for the new addition to the family and make a statement about your commitment to a better, more inclusive, and sustainable future for the next generation. So, next time you're invited to a baby shower or hear the good news of a new arrival, consider these trends and make the welcome truly special.
Also Read: Savor the Season: Christmas Hampers that Add a Touch of Festive Cheer