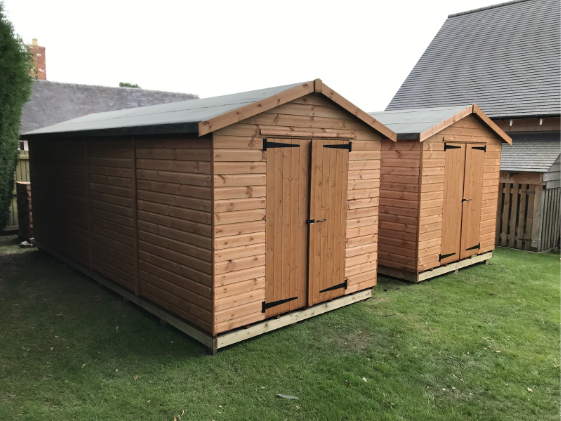 Introduction
In the realm of outdoor sanctuaries, the allure of Wooden Garden Sheds stands as a testament to precision design and meticulous craftsmanship. At Prestige Garden Rooms, our dedication to detail extends beyond garden rooms to embrace the timeless elegance of wooden sheds. This article delves into the intricacies of our heavy-duty wooden garden sheds, exploring the features, sizes, and transformative impact they can have on your outdoor space.
---
Wooden Garden Sheds: Crafting Excellence
Superior Craftsmanship
Our range of wooden garden sheds epitomizes excellence. With 3'x2' framing throughout, these structures are a fusion of strength and aesthetics. Each shed is a masterpiece, constructed with Scandinavian Redwood Cedar shiplap cladding, offering both durability and visual appeal.
Standard Inclusions
All our sheds come with 3 x 2cls framing, 4mm toughened glass windows, and a heavy-duty felt roof. The standard door width is 765mm, with an option for 1200mm double doors at an additional cost of £150.
Example Sizes and Prices
Discover the perfect fit for your needs with our diverse size options and competitive prices:
Apex Shed
2m x 1.2m = £650
3m x 2.5m = £1400
5m x 3m = £1220
Pent Shed
2.5m x 1.8m = £725
4m x 3m = £1900
7.3 x 3.6 = £3990
Potting Shed
3m x 2.5m = £2650
2.4m x 1.8m = £1770
5m x 3m = £1170
---
The Heavy-Duty Garage: Sheltering Your Investments
Built to Last
Our Heavy-Duty Garage, featuring 3 x 2cls framing and Scandinavian Redwood Cedar shiplap cladding, is the epitome of durability. With 4mm toughened glass windows and an apex roof, this garage offers both style and substance.
Standard Size and Price
The standard size of 6.0m x 3m is priced at £3800. This heavy-duty structure comes with 2.5m double doors, promising both accessibility and security.
---
Benefits of Wooden Garden Sheds
1. Durability and Strength
The 3'x2' framing and Scandinavian Redwood Cedar shiplap cladding ensure that our wooden garden sheds are not just aesthetically pleasing but also robust and enduring.
2. Customization for Your Space
With a plethora of size options, we cater to every need. From compact sheds to spacious structures, our wooden sheds adapt seamlessly to your available space.
3. Aesthetic Appeal
The timeless appeal of Cedar cladding and the option for bespoke designs ensure that your garden shed is not just a functional space but also an aesthetically pleasing addition to your outdoor landscape.
---
Designing Your Outdoor Oasis: Prestige Garden Rooms Unveiled
Incorporating Wooden Garden Sheds into Bespoke Designs
Our commitment to bespoke solutions extends to the integration of wooden garden sheds into your outdoor living space. Whether you desire a standalone shed or a harmonious combination with garden rooms, Prestige Garden Rooms has the solution.
Transported and Installed Throughout the UK
Designed and built in our Staffordshire factory, our modern garden rooms and sheds are not confined to one location. We transport and install these masterpieces throughout the UK, ensuring that your outdoor oasis is not limited by geographical boundaries.
---
Cedar Insulated Garden Rooms: Where Elegance Meets Efficiency
Thermal Insulation Excellence
Venturing beyond sheds, our Cedar Insulated Garden Rooms redefine the concept of outdoor living. With low density and superior thermal insulation, these garden rooms stand as a testament to the fusion of elegance and efficiency.
Factory-Sprayed Finish and Precision Construction
From the 18mm Western Red Cedar cladding to the 95mm x 45mm framework structure, every element is meticulously crafted. The internal finish of 9mm moisture-resistant MDF with a V groove ensures a panelled effect, factory-sprayed in pristine white.
Doors and Windows: A Symphony of Design and Functionality
UPVC doors and windows with 4/20/4 TGH double glazing contribute to the structural integrity and aesthetic allure of our Cedar Insulated Garden Rooms.
---
Conclusion: Elevating Outdoor Living with Wooden Garden Sheds
In conclusion, the allure of Wooden Garden Sheds from Prestige Garden Rooms goes beyond being mere storage spaces. They are embodiments of craftsmanship, durability, and aesthetic appeal. From the Heavy-Duty Garage to the bespoke designs seamlessly incorporating garden sheds, our commitment to excellence remains unwavering.
Elevate your outdoor living experience by embracing the durability and elegance of Wooden Garden Sheds. Contact us to explore the possibilities and transform your garden into an enchanting haven.
Also Read: The Charm of Avalon Park Tavares