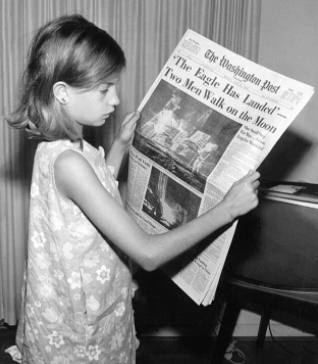 Consider using newspaper archives when vital records such as birth, marriage, or death certificates don't contain the necessary information. They can provide much more detail than a government record.
Births
For many genealogists, family history research centers on tracking vital records such as births, marriages, and deaths (obituaries). However, researchers often need to pay more attention to the potential of using newspapers to supplement or even serve as a substitute for these official documents.
While it's rare to see formal birth announcements in today's newspaper, this was common practice for many generations. Parents were eager to share their joyous news and often did so in local papers shortly after the event. As such, the resulting birth announcements can be an excellent resource for tracing your ancestry because they can give you clues to track down official records.
Moreover, old newspapers can be a great source on how to look up birth records. It's common for them to feature photos of newborns in their obituaries or other news sections. You can also find these photos through online newspaper archives.
Another source for locating birth records is through state archives. The websites of these agencies typically list their archived records along with the time frame they're available. Some may charge a fee to access the records, while others offer free search options for their archives.
Marriages
Before 1902, most countries did not have standardized registration systems for births and marriages. Instead, they were reported to and recorded by local churches or in newspaper articles. These articles are an excellent source of information for your genealogy research and can even be used as a substitute or supplement to official records.
If searching for marriages in a specific area, try using keywords such as "Marriage" or "wedding." If you find an article that matches your family, you can request a copy of the official record. This information will include witnesses to the wedding, which can help you verify the information in the article.
You can also search for marriages on family history websites. These websites offer free searches but require a subscription to view the full records. Other family history sites also offer searchable databases of newspapers from the United States and worldwide. The latter is well known for its British, Irish, and Australian newspapers but also has other international content.
Obituaries
Obituaries can be a great source of information for researchers. Not only can they provide a person's cause of death, but they can also include birth announcements and information on relatives who have died. Obituaries can also tell where a researcher might want to continue their search.
Many people search for obituaries by going to online resources that can be used from home. These resources can be very helpful, especially if you know your relative's date of death and the location where they lived. However, it would help if you always remembered that obituaries may have appeared in a newspaper where they lived most of their lives, in a nearby city, or even in a different state.
If you find no obituary, try searching for your family member on genealogy websites or other online search engines specializing in finding obituaries and other historical records. These searches can be very effective and are often much faster than searching the websites of specific newspapers.
For example, many genealogists use a website which has back archives of thousands of newspapers. This site helps research ancestors who moved to another country or region, and it can help researchers narrow their search for vital records such as birth and death certificates. The website can also help find reports made by American consular offices to the Department of State naming Americans who have died abroad.
Deaths
The United States did not formally record births, marriages, and deaths until 1902. However, this information was often reported in local newspapers. These sources can provide valuable details that should be included in more structured official records. Search for a person's name in old newspaper archives to find birth announcements, as well as obituaries. These online archives are a valuable resource for genealogists, allowing users to search for specific keywords and dates.
In addition to searching through online newspaper archives, you can also use the websites of local and national genealogy societies. You can also check the website of a county clerk or state archive to see if they offer digitized birth, death, and marriage records. Another option is to contact a professional investigator or genealogist who can track down hard-to-find birth records for you.
Depending on the type of death, you may need to search through multiple newspapers or other sources. For example, if your ancestor died in an accident or war injuries, the event might have been covered on the front page of a major publication. Additionally, the notation "Inf of" (the infant of a deceased parent) will sometimes appear in newspapers. You can also access microfilm copies of death and burial registers at IRAD, which lists the counties in Illinois that have a repository for these records.