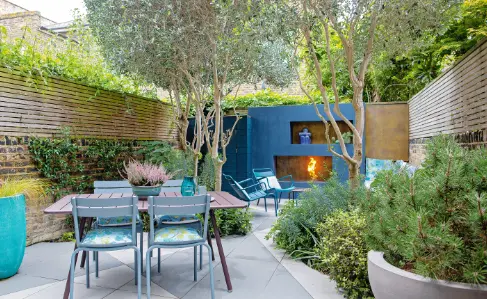 Ever feel like your backyard is missing something? Like a little pizzazz or personality? Well, it's probably time for some garden ornaments. Nothing transforms an outdoor space quite like the right decorations. Whether you want to go whimsical, rustic, or contemporary, the perfect ornaments can turn your plain old backyard into an Insta-worthy oasis.
Picture this: you're sitting on your patio, drink in hand, admiring your yard. But instead of sparse greenery and a lone patio set, you're surrounded by gorgeous planters overflowing with flowers, a colorful hammock strung between trees, and a stylish bistro set for dining al fresco. The sun is glinting off the metallic accents of sculptures and lanterns artfully arranged throughout the space. Friends are commenting on how your yard looks like it's straight out of a magazine.
This can be your reality. All you need are some simple garden ornaments to give your backyard the ultimate makeover. Your outdoor space is about to become your new favorite room in the house. A few choice decorations are all it takes to turn a bland backyard into a beautiful retreat. Ready to get started? These garden ornament ideas are about to transform your outdoor space.
Transforming Your Outdoor Space with Garden Ornaments
Adding garden ornaments is one of the easiest ways to transform your backyard into an inviting space that reflects your unique style. Their visual appeal draws the eye, enhances focal points, and gives your outdoor area a warm, welcoming vibe.
Choose ornaments that complement your yard's overall design and landscaping. A striking statue, colorful wind chimes, or a textured birdbath can serve as an eye-catching focal point, especially when placed in a prominent spot like near an entrance or patio. Consider a theme to tie multiple ornaments together, whether it's a natural material like stone or metal, or a whimsical style such as rustic or bohemian.
Garden ornaments also allow you to showcase your personality and interests. Do you have a favorite animal or bird? Adding art featuring nature's creatures is an easy way to give your space character. Are you an avid reader? Decorate with literary-themed pieces like a stack of oversized antique books. The options for customization are endless!
With the variety of ornaments available these days, it's easy to find options that resonate with you. Keep an eye out for high-quality, weather-resistant pieces that will last for years. And don't forget that the placement of ornaments is just as important as the ornaments themselves. Group them together or space them out, and be sure to consider their visual balance in your overall design.
With the right ornaments and placement, you'll transform your basic backyard into an outdoor oasis and extension of your home's style. A little visual embellishment can go a long way in creating a space for relaxing and entertaining. Your backyard has so much potential, so start exploring how garden ornaments can bring it to life!
The Versatility of Garden Ornaments
Garden ornaments offer so much versatility for your outdoor space. Their styles range from traditional to ultra-modern, so you can choose pieces that complement your home's architecture and the overall vibe you want to achieve.
Classic ornaments like urns, birdhouses and trellises evoke a traditional feel, perfect for a cottage garden or colonial home.
Whimsical pieces such as colorful wind chimes, kinetic sculptures and fairy garden decor transport you to a magical wonderland.
Clean-lined, metallic ornaments in copper, aluminum or stainless steel suggest a contemporary minimalist look that pairs well with drought-tolerant and succulent gardens.
To keep things interesting, rotate your ornaments seasonally. In spring, add nesting boxes, floral wreaths and bunny figurines. For summer, include sun dials, citronella candles in lanterns and beach-themed accents. Transition to fall with scarecrows, pumpkins and leaf garlands. And for winter, string up lights, hang mistletoe and display nutcrackers.
Garden ornaments come in a variety of durable, weather-resistant materials like metal, stone, concrete, resin and high-density polyethylene (HDPE) plastics. Ceramic and glass ornaments can also work, but may require more maintenance. For the longest-lasting, lowest-maintenance pieces, choose ornaments specifically intended for outdoor use that can withstand extreme temperatures, sun exposure and moisture.
With so many options to suit any style or season, garden ornaments are an easy, impactful way to give your outdoor space an instant makeover. Your backyard will thank you!
DIY Garden Ornament Ideas and Tips
When it comes to garden ornaments, homemade is always better. Not only will DIY ornaments save you money, but they'll also give your yard a custom, handcrafted feel that you just can't buy in stores. Here are a few simple projects to get you started:
Painted rocks: Collect smooth, rounded rocks from your yard or a local creek and paint them in your favorite colors or designs. Group them together or place them sporadically around your garden for a whimsical look. Seal the paint with a clear sealant to protect from weathering.
Wind chimes: All you need is some wooden boards, rope or twine, and metal hardware like washers, nuts, or copper piping to make a set of wind chimes. Cut the wood into diamond shapes, drill holes in the top, and thread rope through to hang. Attach the metal pieces with wire or strong glue and hang in a spot that gets lots of breeze.
Birdhouses: If you have basic woodworking skills, you can easily construct simple birdhouses to attract feathered friends to your yard. Use weather-resistant wood, like cedar, and include an entrance hole size for the specific type of bird you want to attract. Mount the finished house on a pole at least 5 to 15 feet high.
When placing your ornaments, think about balance and spacing. Group smaller items together and spread larger pieces out. And be sure to consider your yard's focal points—you'll want your decorations to complement things like gardens, pathways or water features rather than distract from them.
To keep your ornaments looking their best over the years, bring them indoors during winter or cover them to protect from snow and ice damage. Store all pieces in a dry location away from extreme heat or cold. With some TLC and DIY creativity, your garden ornaments can become treasured yard decorations that you'll enjoy for seasons to come.

Also Read: The Charm of Avalon Park Tavares
Conclusion
So that's the scoop on how a few well-chosen garden ornaments can transform your backyard into an inviting space you're proud to call your own. Whether you have a small patio or sprawling multi-acre yard, tasteful decorations bring your outdoor area to life and give it personality. The options are endless, allowing you to express your unique style. And the best part is you can start small and build up your collection over time as your budget and creativity allow. So what are you waiting for? Get out there and start shopping—your backyard makeover awaits! Once everything is in place, grab your favorite drink, put your feet up, and enjoy the peaceful sanctuary you've created.