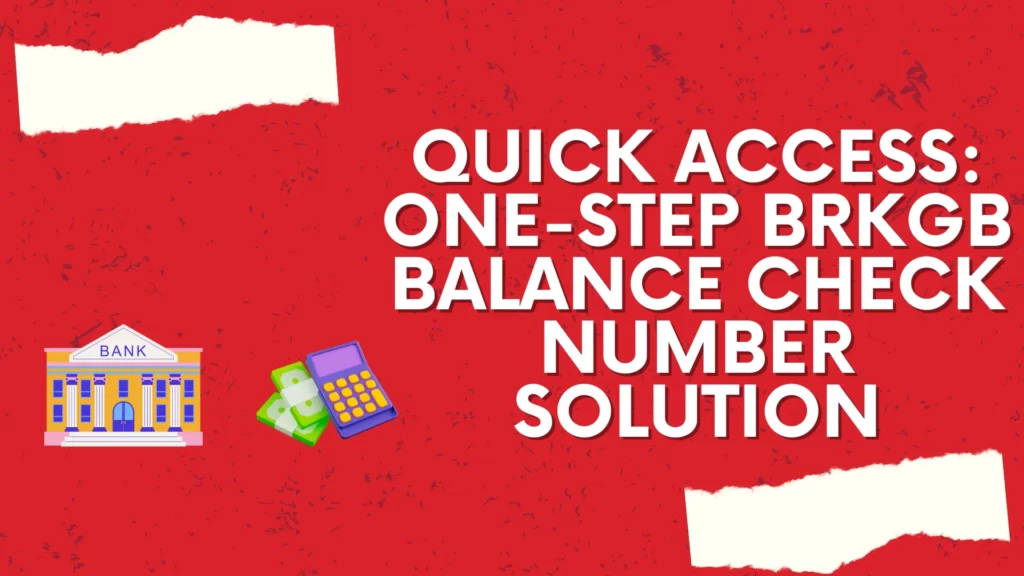 Initiate the process by dialing 8880094411 from your mobile number registered with BRKGB. or Disconnect the call after 1 or 2 rings.
In the realm of banking, Baroda Rajasthan Kshetriya Gramin Bank (BRKGB) stands out, particularly in catering to the vibrant ethos of rural Rajasthan. Established through the unification of three regional rural banks, BRKGB has embarked on a journey of empowering financial inclusivity since 2013. Its commitment is evident in its widespread reach, boasting 864 branches across 21 districts. The commendable feat of consecutively securing the 'Best Technology Bank of the Year' for six years underlines its technological prowess, enhancing the banking experience for 8.5 million customers. Let's find out the BRKGB Balance Check Number
Embrace Simplicity with the BRKGB Balance Check Number
Amidst various innovations, the BRKGB balance check number service is a true testament to customer convenience. This transformative feature allows account holders to access their account balance through a straightforward process:
Simplified Balance Inquiry: Initiate the process by dialing 8880094411 from your mobile number registered with BRKGB. or Disconnect the call after 1 or 2 rings.
Real-Time Balance Updates: Following the brief missed call, BRKGB promptly responds with an SMS. This message, delivered straight to your mobile device, contains the up-to-the-minute details of your account balance, obviating the need to engage in time-consuming bank visits or navigate through extensive online banking protocols.
Comprehensive Account Support: Whether your relationship with BRKGB is through a Savings, Current, Overdraft, or Cash Credit account, this service is available. In instances where multiple accounts are linked to a single registered mobile number, the bank ensures delivery of balance details up to 320 characters via SMS. For information on additional accounts, customers are encouraged to leverage BRKGB's SMS Banking Services, reach out to the customer care center, or visit a branch directly.
This methodology underscores BRKGB's commitment to fostering a customer-friendly environment, making banking an experience marked by convenience, efficiency, and technological savvy.
Balance Queries Using ATM
Apart from the stellar missed call service, BRKGB enhances accessibility through widespread ATMs, facilitating 24/7 balance inquiries. Here's how:
Card Insertion: Insert your BRKGB ATM card into the machine.
Secure Pin Entry: Navigate through the interface, entering your secure PIN when prompted.
Balance Inquiry Selection: Select the "Balance Inquiry" option.
Instant Balance Display: The screen promptly displays your current account balance, with options to print a receipt for record-keeping.
This self-service medium respects customer time, offering a secure, convenient, and quick method to keep track of finances.
Also Read: Airtel Balance Check Codes 2023 Check Airtel Ka Balance Check Number
Baroda Rajasthan Kshetriya Gramin Bank Balance Check Online through Netbanking
Embracing the digital revolution, BRKGB offers an intuitive and secure online banking platform. Checking your account balance is a breeze:
Navigate to the BRKGB Netbanking Page via https://brkgb.com/.
Use your Login ID and Password to access your account.
Post-login, your account balance is visibly highlighted, accompanied by options to delve into detailed statements and transaction histories.
The netbanking portal is a hub of functionalities, from seamless fund transfers to effortless utility bill payments, underscoring BRKGB's commitment to comprehensive financial services.
BRKGB Bank Details and Contact Number
| Contact | Description |
| --- | --- |
| Name of Bank | Baroda Rajasthan Kshetriya Gramin Bank |
| Website | https://brkgb.com/ |
| Address | Plot Number- 2343, 2nd Floor, Aana Sagar Circular Road, Vaishali Nagar, Ajmer – 305004 |
| Email ID | [email protected] |
| Head Office Number | 0145-2642621, 2642580 |
| Balance Check Number | 8880094411 |
Frequently Asked Questions (FAQs)
How can I check my BRKGB account balance?
You can swiftly check your BRKGB account balance by giving a missed call to 8880094411, using BRKGB's netbanking service, or visiting any BRKGB ATM nearby.
Is there a BRKGB mobile app for balance inquiries?
Currently, BRKGB emphasizes missed call services and netbanking for balance inquiries. Updates on mobile app developments will be directly communicated to customers.
Are there charges for BRKGB balance inquiry services?
BRKGB takes pride in customer satisfaction, offering free balance inquiry services via missed calls, netbanking, and ATMs.
Conclusion
BRKGB is a paradigm of rural banking excellence, continually adopting technologies that resonate with convenience and ease. The bank's balance inquiry mechanisms, specifically the brkgb balance check number, reflect a blend of simplicity and innovation, catering to the immediate needs of millions. This stride is not just a service but a commitment to elevating every customer's financial experience.
Also Read: BSNL Balance Check Number 2023 How to Check Offers Online with USSD